Family Owned and Operated Since 1980
Ideal Platinum 3000
Two and Three Section Sliders
Slimline Profile with less vinyl gives you more glass and light. When space is limited, the slider is a great addition to any room. Narrow sightlines provide a larger viewing area and give your home an elegant look. Sliders are available in two and three lite configurations as well as several colors and glass styles to complement your individual taste.
---
Standard Features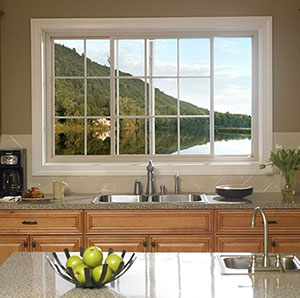 Heavy duty multi-chambered extrusions provide structural integrity
EMS+ glass package includes Duralite warm edge spacer for a .23 U-factor
Fully welded, foam filled frame and sashes add energy efficiency and comfort
Foam wrapped jambs reduce air leakage around window
Shadow grooved welded sashes show a clean fit and finish
Double strength glass which is heavier and far more durable than single strength
Advanced, triple weather-stripping seals for top efficiency performance
Heavy duty night latch offer ventilation
Slimline design provide less vinyl frame, more glass
Extruded locking aluminum screen frame with heavy duty aluminum corner reinforcements and "UltraVue" mesh
---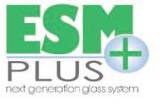 Dual surface, double strength LowE glass. Using two surfaces of LowE provides the same level of efficiency as a triple glazed unit. Argon Gas - more dense than air, slow down the movement of air within the 7/8" airspace, reducing the transfer of heat to cold for improved energy performance.
---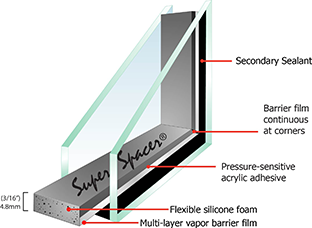 SuperSpacer is a warm edge spacer featuring Polymer EPDM (Ethylene-propylene-diene-monomer) construction, dependably delivers high performance for insulating glass units, including excellent resistance to ozone, weathering, water and aging, while maintaining its flexibility through wide changes in temperature and barometric pressure.
---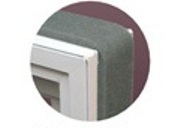 Cellular insulation on the frame minimizes drafts between the house and window.
---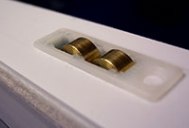 Brass rollers allow sashes to glide smoothly for easy operation.
---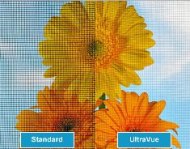 The UltraVue invisible insect screen is an innovative screen mesh that allows you to see the view and not the screen. UltraVue provides better airflow, more clarity, and better insect protection.
---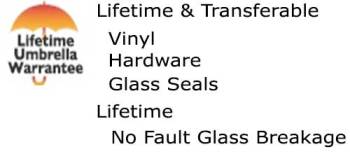 All these features with one of the best warranties in the industry
---
---
Top