Family Owned and Operated Since 1980
Provia Entry Door
Legacy Steel Door
The many thoughtfully designed features of ProVia's Legacy steel exterior doors add up to a professional-class product. Built with 20-gauge steel, Legacy entry doors have 49% more galvannealed steel than 24-gauge doors, making them far superior in strength and rigidity than other steel security doors.
The addition of insulating foam enables most styles of these metal doors to meet ENERGY STAR® certification criteria. Not only do these steel exterior doors provide security, long-term durability and energy efficiency, they also enhance the curb appeal of your home, with many beautiful door styles and options for an attractive woodgrain texture or smooth steel in various stains and paint colors.
---
Door Model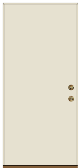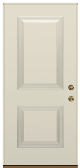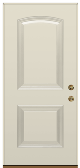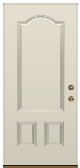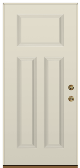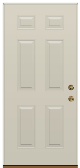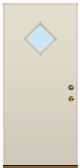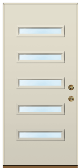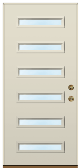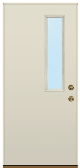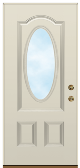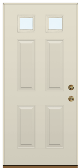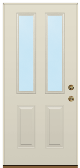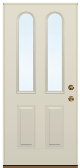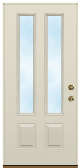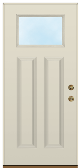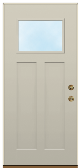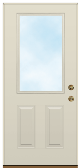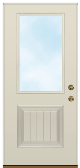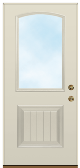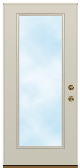 Sidelite Model


Features
Legacy Steel features add up to a professional-class product. Whether you select Legacy Woodgrain Textured Steel or Smooth Steel, our entry systems will provide an elegant, durable and energy efficient addition to any home.
---
A
Composite top endcaps increase rigidity and energy efficiency.
B
Special adhesives/thermal barrier reduce heat and cold transfer, while the exclusive tab and slot system of mechanical interlocks gives the door exceptional structural strength.
C
ProVia doors are foam filled by a computer driven process that ensures the optimal foam fill for maximum energy efficiency and strength.
D
To reinforce the lock and deadbolt area, a rigid composite lock block is added.
E
The edges and face skin of our steel doors are one continuous piece of steel for strength and durability.
F
The 20-gauge steel doors give you 49% more galvannealed steel than a standard 24-gauge door.
G
Composite bottom endcaps increase rigidity and energy efficiency.
H
Legacy steel entry systems come standard with an anodized nickel threshold with a complementary riser.
---
Top