Family Owned and Operated Since 1980
Pella Impervia
Sliding Glass Door
Made from incredibly strong, durable Duracast fiberglass composite. Pella Impervia sliding glass doors withstands extreme heat and cold.
---
Standard Features
Made from Duracast - with the durability to be virtually impervious to all weather conditions.
Pella Impervia fiberglass composite patio doors are prefinished in a choice of 5 colors. They have the quality look of painted wood.
Grilles between the glass are easy to care for and easier to love. They're available in a variety of patterns to complement your home.
Multipoint locking hardware.
Roller system on sliding panel ensures years of smooth operation.
Sliding panel is on the exterior; so the harder the wind blows, the tighter the seal. Plus, the screen is protected from the elements.
A standard footbolt holds the door open about 3" for ventilation.
---

Two panes of glass with Advanced Low-E protection and insulating argon between the panes. Blocks 84% of the sun's ultraviolet rays. Three panes of glass also available on select product lines for increased energy efficiency. Blocks 86% of the sun's ultraviolet rays.
---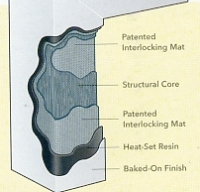 Made from the strongest, most durable material available in windows and patio doors. 16 Pella Impervia products are made from Duracast material 17 — Pella's five-layer, engineered fiberglass composite. Withstands high heat and subzero cold. Duracast fiberglass composite resists warping in summer and becoming brittle during winter.
---

Low maintenance. The interior and exterior of your windows and patio doors arrive with a durable powder-coat paint finish. Looks like new for years. Long-lasting factory powder-coat finish that stays looking great for years — inside and out — with little care. Pella's environmentally friendly paint process virtually eliminates VOCs.
---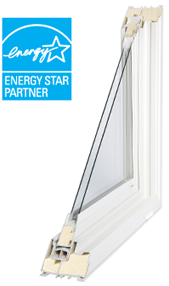 Foam filled frame and sash increase energy efficiency
---
---
Top