Family Owned and Operated Since 1980
Trimline
Casement Windows
Trimline casement windows project are hinged on the side and open away from home. Available in single units, two section, three or four section casements. Three and four section casements can contain a mix of venting and stationary units. TrimLine casement windows were designed and engineered with the energy wise discriminating consumer in mind. TrimLine's high performance Comfort Plus Low E insulating glass with Warm Edge Super Spacer and Argon gas is standard on all casement windows. When combined with the superior insulating qualities of wood along with the tough maintenance-free durability of a clad exterior, TrimLine casement truly offer you the best of all worlds.
---
Standard Features
Windows are custom built for a perfect fit in each opening.
Multipoint locks for added security and reduced air infiltration.
Double-Pane Insulating Glass with Comfort+ glazing system includes LowE coating and argon gas.
SuperSpacer warm edge spacer system.
Exteriors are aluminum clad and don't need painting.
The wood interior may be stained or painted to match any decor.
Fully assembled unit slides easily into the window "pocket" created when the old window sashes are removed. Trim, paint, wallpaper, plaster and exterior surfaces are usually not disturbed.
Maintenance – free clad master frame and sash is of heavy .060" extruded aluminum.
Solid 6/4 stain grade western pine (standard) kiln dried and treated with a wood preservative.
Continuous weatherstripping keeps air and water outside.
Casement sash opens full 90º for maximum washability.
UltraView full screen with extruded aluminum frames for longer life.
---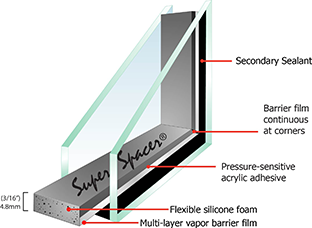 Comfort Plus glass package uses two panes of double strength glass with Low-E protection and insulating argon between the panes. Protection from UV rays that can fade carpet, walls and furniture. SuperSpacer is a warm edge spacer featuring Polymer EPDM (Ethylene-propylene-diene-monomer) construction, dependably delivers high performance for insulating glass units, including excellent resistance to ozone, weathering, water and aging, while maintaining its flexibility through wide changes in temperature and barometric pressure.
---
Exterior Cladding
The extruded aluminum frame is a spray applied PPG Polycron III finish meeting the physical test requirements of AAMA 2603. The roll formed sash cladding is a reverse roll-coat system using 70% Kynar resin, meeting the physical test requirements of AAMA 2605.
---
Fold Away Handle
With casement hardware, the operator is the driver behind the entire system. Trimline's operator mechanism is laser cut to provide years of super-smooth performance and unequal quality. It is encased in an elegant zinc cast cover which cradles the folding operator handle and is available in an array of colors and architectural finishes
---
Single Handle
The multi-point locking system features a single lock handle conveniently located at the bottom of the sash for hard to reach windows.
---
Washability Hinge
The concealed 2-bar 'Washability Hinge" is tamper resistant and allows for quick and precise sash re-alignment within the window frame. A nylon shoe slides along the stainless steel hinge track providing self cleaning action for longer life.
---
---
Top