Family Owned and Operated Since 1980
Provia Door
Decorative Glass
Highly skilled craftsmen assemble hand beveled glass accented with a variety of unique glass options by precisely cutting, mitering and soldering each componenet into artistically designed patterns.
---
Decorative Glass
---
Barcelona Decorative Glass features an exquisite wrought iron design with the option of choosing Gluechip (standard), Waterfall, Taffeta, Chinchilla, Obscure Pebble or clear glass.
---
Berkley features micro-iced granite, clear bevels, and small hammered with a timeless herringbone pattern that complements modern, contemporary and Arts and Crafts architecture.
---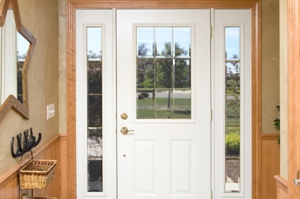 ProVia's Beveled Decorative Glass is accented with the rich beauty of brass caming. This beautiful custom door glass design gathers and displays sunlight in an exciting prism effect to brighten your entry.
---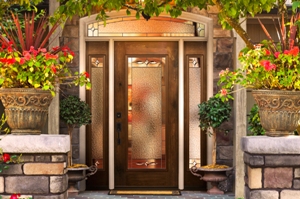 Carlisle features clear bevels, arctic and seedy glass giving an appealing entranceway to any style of home.
---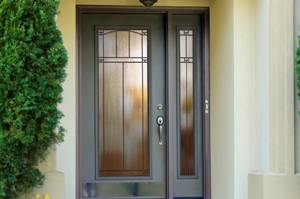 Carmen features a refreshing new style for an entrance way with old world style charm. Standard with Chinchilla privacy glass and also available in all privacy glass options.
---
Carrington features small hammered, flat seedy and clear bevels in an attractive vintage design to accent your home's entryway.
---
Cheyenne Decorative Glass features micro-granite, hammered and beveled glass that will add elegance to your entryway, while providing a high level of privacy for your home.
---
Constance features gluechip, medium gray softwave and beveled edge glue chip resulting in a traditional design that gives your entryway an elegant look.
---
Eclipse Decorative Glass features double Gluechip privacy glass and clusters of bevel with a traditional and harmonious design. Eclipse promotes classical elegance and privacy.
---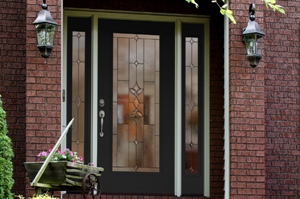 Esmond features small hammered, micro-granite, flat seedy and clear bevels in a splendid old-world style design bringing a unique touch to your entryway.
---
Essence features a bronze softwave glass combined with micro-granite that brings elegance to a whole new level. This design will take your breath away with its fluent and colorful style.
---
This traditional style is accented with a creamy alabaster glass adding interest and appeal that clearly sets it apart from other decorative designs.
---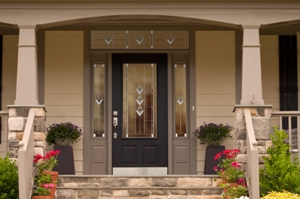 Beautiful beveled glass with iced and micro-iced granite, accented with zinc caming, gives ProVia custom entry doors using this classic design a contemporary edge with significant privacy.
---
Simple, contemporary and classy all describe the elegant look and feel of Jewel Decorative Glass created with granite and micro-granite glass with beveled accents.
---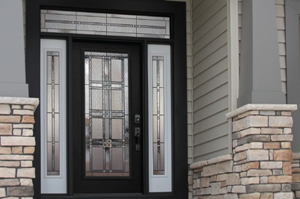 Laurence Decorative Glass features a gray soft wave expressing defined classical vintage that will greet your guests with its distinguished character and prominent lines.
---
Somerset features small hammered, micro granite and clear bevels in a simple yet elegant design that gives a fresh look to your entryway.
---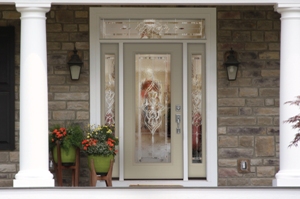 Symphony features a bronze softwave and expresses timeless beauty and elegance at every curve. This design is sure to bring you a pleasing and melodious style.
---
Tacoma Decorative Glass features a hammered and micro-granite design reminiscent of the Arts and Crafts period. Tacoma adds a Southwestern-inspired theme bringing heritage and legacy to your door.
---
Tranquility Decorative Glass features unique Chinchilla glass accented with beveled clusters and streamed glass.
---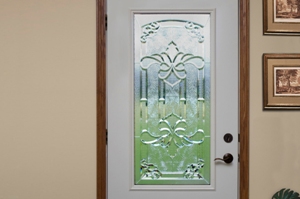 Tuscany Decorative Glass features a unique lamination that holds shattered glass together, maintaining security beautifully.
---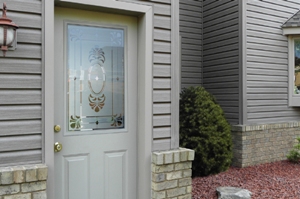 Twilight Decorative Glass is a beautiful, silk-screened piece of art. Its unique frosted glass adds to the warmth and privacy of your home.
---
Dialogue Layered Glass
Dialogue takes on a personality of its own as layers of glass interact with one another, with light and with movement. Dialogue layerd glass creates dynamic privacy that changes, just as the doorglass patterns do, with light and proximity.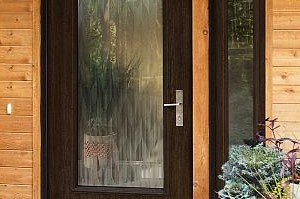 Brainstorm's exterior veritcal pattern and interior chevron motif combine for an appearance with both subtley and substance.
---
Repartee's frosted layers and geometric grid combine for a design that plays with opacity and movement. Squares and trapezoids carry on a lively back-and-forth as light and vantage points change with appearance.
---
Top